The short answer is … VERY!
A cover letter is to a resume what peanut butter is to jelly.
As you write your resume, there are probably things you'd like to have the opportunity to expand. There's definitely going to need to be something you want the hiring manager to know before they decide whether or not to interview you. It's important to not simply repeat information that's already in the resume. Why would a hiring manager want to read something twice? They don't have time for that. Give them new details that show how you're a strong match for the position they have open.
The cover letter should show them that hiring you adds value to their team.
Use the cover letter to talk about ambitions and clear up questions
You should include a cover letter with your job application even when the company indicates that a cover letter is optional.
The fact that you took the time to do something you weren't required to do shows motivation.
The cover letter lets the hiring manager get a sneak peek at your personality because it's written in a more conversational tone than your resume.
You can use the cover letter to clear up any questions (like gaps in your employment) that show up on the resume.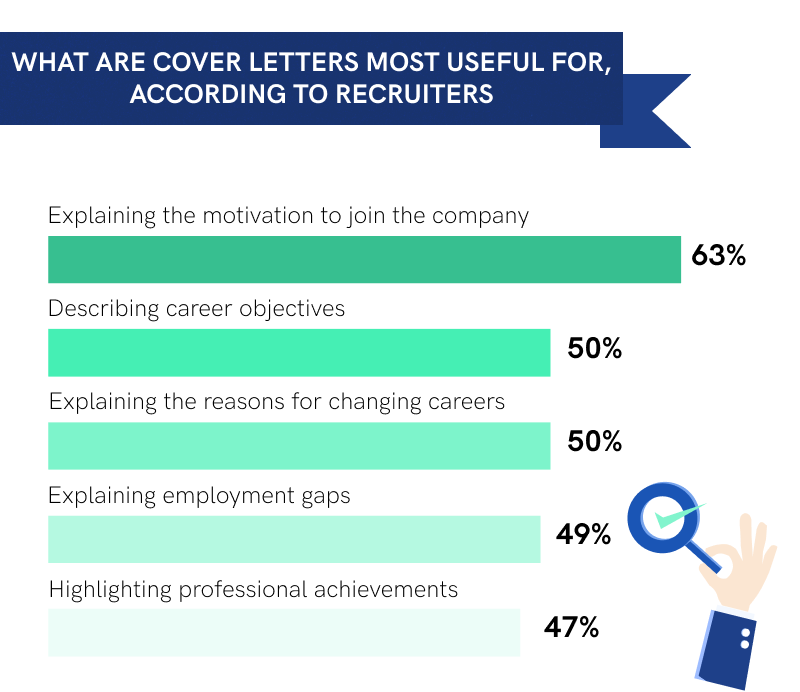 What should your cover letter look like?
It should be written as a formal letter. The top of it should match your resume. In fact, the top of all of your professional documents should match. It will contain 3 paragraphs:
An introduction – The introduction paragraph expresses your interest in the job and starts to talk about how you're qualified to add value to their team.
A body – The body provides an opportunity for you to discuss some specifics about your experience that make you suited for the role. You can also offset some of the information in the body with bullets. Considering the short time a hiring manager is taking to scan resumes, bullets make information easy to read quickly.
A conclusion – The conclusion thanks the reader for their time and leaves the door open for them to contact you.
Here's what your cover letter could look like:
Do you need help determining if your resume and cover letter are ready to be used?